Scouting For Food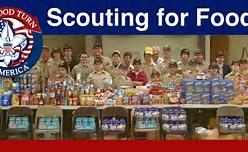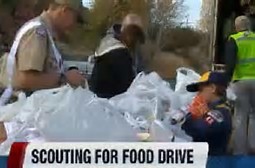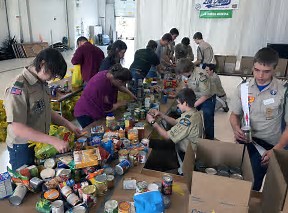 What is Scouting for Food?
Scouting for Food is an annual food collection orchestrated by Scouts from Baltimore Area Council. Local Scouts distribute plastic bags to homes across the region and return to pick up the bags, now filled with food, one week later.Bags will be available for February RT.
How does my Unit do Scouting for Food?
Step 1
Find a local Coordinator in your Unit
Find a local coordinator in your Unit. If that is you, THANKS!
Step 2
Find a local pantry to support in your area.
Find a local pantry to support in your area. Contact them and let them know you'll be participating in SFF and that you need a time/place to drop off your donations. ?
Step 3
Organize your manpower!
Get members of your Unit signed up to do Scouting for Food!
Step 4
BAG DROPOFF
(See Dates below), Place a bag along with a flyer with your Packs information in it in your local neighborhood around your Chartered Organization.
Step 5
Bag Pickup!
On the date of pickup, pickup all of your bags from the houses you left bags out at the dropff. Remember not to miss any! Councils get calls every year about people missing bags. Don't miss your bags!
Step 6
Report your data!
After your pickup, please send all data (Number of Hours, Pounds of Food, Number of Scouts/Adults) to Tyler Korpisz, tkorpisz@baltimorebsa.org, who will be compiling the data for the District.
Council Suggested Scouting for Food Dates 2018
Bag Dropoff: March 17
Bag Pickup: March 24