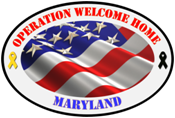 Hundreds of our Sailors, Airmen, Soldiers and Marines return from the military actions in Iraq and Afghanistan every week through the gates of the Baltimore/Washington International Thurgood Marshall Airport. From January 2009 through October 2009, Operation Welcome Home volunteers have greeted 168 flights and 34,329 Soldiers, Sailors, Airmen and Marines, an average of 233 per flight! Bob Hogan, our District coordinator for this community service invites you to come on out and help welcome them home!
Take a look at Operation Welcome Home Marylands event calendar to see the current month's event dates, or call their hotline at (410) 630-1555 for recorded information about the next event. Be sure to call the hotline again before you leave for the airport, to confirm the flight has not been delayed or cancelled.
Thank you for considering this valuable community service project!