Scouting Needs Your Help (1:22)
Each year over 36,000 Scouts and adult volunteers take part in our local Scouting movement throughout Anne Arundel, Baltimore, Carroll, Harford, and Howard counties and Baltimore City. This year has been no different. It might not look the same, however, our weekly meetings, skills instruction, and Scout development continue, virtually or in-person when possible, with proper guidelines. Scouting isn't just an activity to keep kids busy, it is a life-changing experience that Scouts carry with them an lean on for the rest of their lives. Whether a young person joined in kindergarten and progressed each year until earning their Eagle Scout, had just a few years experiencing the program before moving on to other time commitments, or any amount of time as a Scout in between, Scouting always makes a difference and they look fondly back at that time.
You can make a difference in the life of our young people with a tax-deductible financial contribution to The Baltimore Area Council, Boy Scouts of America. Your gift will go directly to supporting these programs that are enhancing the way young people are growing, learning, and discovering. We need your support. Please consider making your gift now.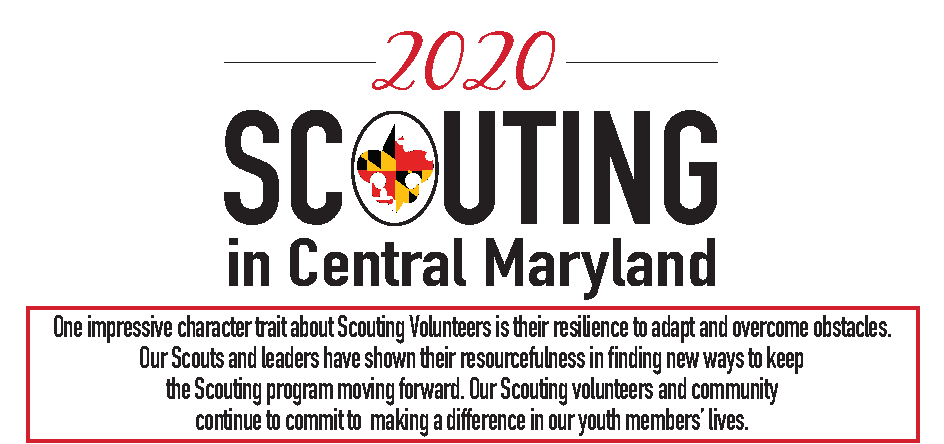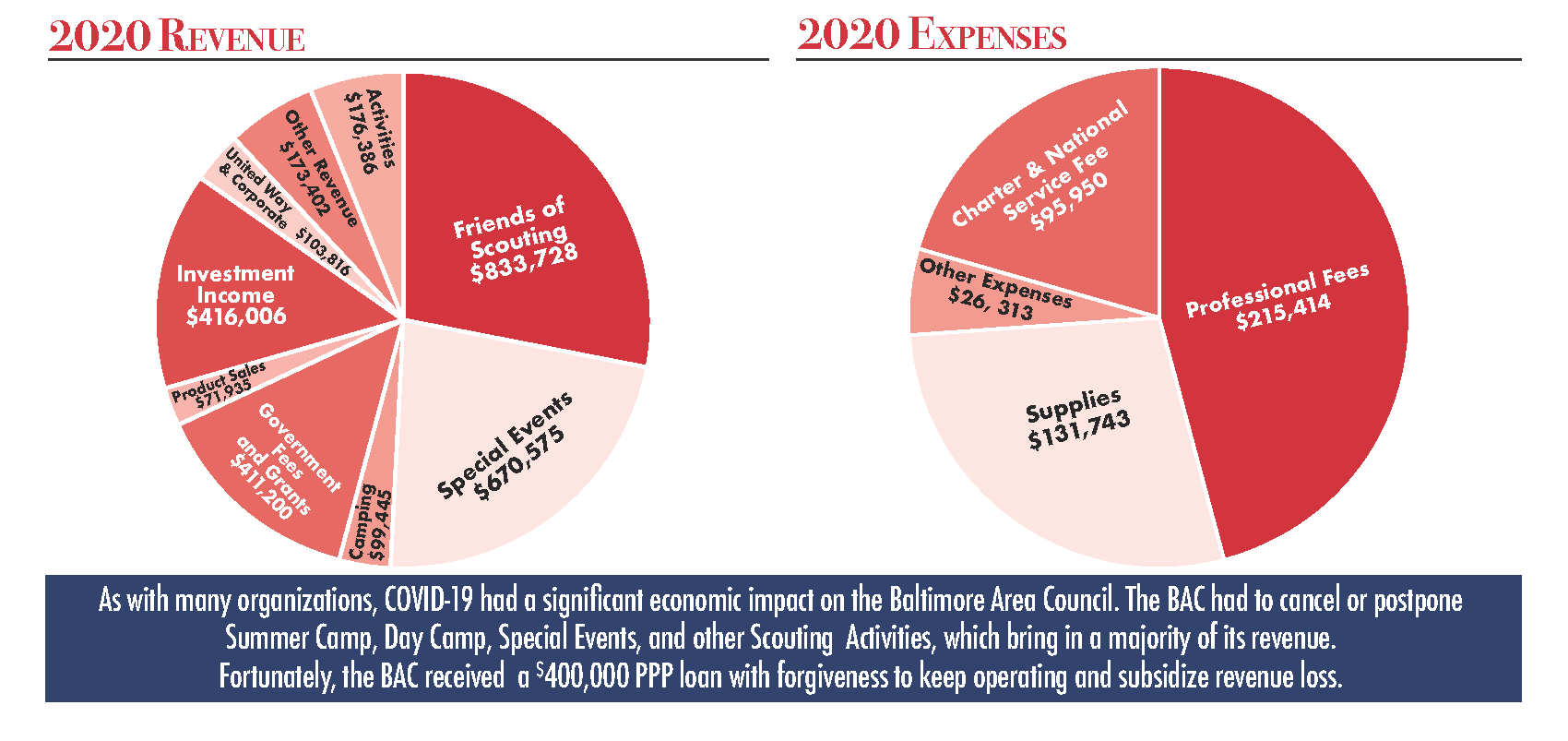 The Full 2020 Report (Infographic and Annual Report)
Click here to read more

Download a Pledge Card to Mail in Here
Xavier Cook, Eagle Scout
Scouting is a very key and important part of my everyday life. To me, it meant that I had finally accomplished a long-term goal and it taught me valuable life skills and experiences that I will always remember.

Scouting taught me to always challenge myself and to persevere. As an Eagle Scout, I took on a lot of responsibility because I'm a mentor and role model to not only younger Scouts but others as well.

Click here to read more about Xavier's impact from Scouting...

My name is Xavier Cook and I'm 16 years old. I attend the Bullis School in Potomac, Maryland, where I'm a rising junior. I have a 3.8 GPA, play basketball and am on the varsity football and swimming teams. Additionally, I'm in the school choir and a member of multiple Honor Societies at Bullis. I also love to hang out with my friends. After graduation, I plan to attend college and major in mechanical engineering, possibly at one of the military academies.

I enjoyed Scouting because of the challenging physical activity, community service, and leadership activities that we did. I enjoyed the outdoors and playing games or exploring with my friends in my troop- Troop 007 in Glenwood, Maryland. We always had a good time and learned important lessons from everything.

I have learned many things from my multiple years in the Baltimore Area Council. I have learned about respect and that you should always help others. During my time in Scouts, I became more responsible. I followed the Scout Oath and Law every day and became more Trustworthy, Loyal, Helpful, Friendly, Courteous, Kind, Obedient, Cheerful, Thrifty, Brave, and Reverent. One of the most important things that I learned, and that will stay with me for the rest of my life, is that you have to respect someone if you expect any respect in return.

A. Chris Burton, Vice President of BGE
The Scouting program is the best way to prepare today's youth for tomorrow's challenges. The leadership skills I learned through Scouting have been a significant influence in my career and have always prepared me for any challenges I have faced. I have seen the positive influence the program had on my boys and others, and today appreciate the impact it has more than ever. Click here to read more about Chris's impact from Scouting...

I was blessed to grow up in Scouting, and participate in an active troop and enjoy outdoor experiences like camping, hiking, biking, and canoeing. Merit badges, summer camps, volunteer activities, and projects provided exposure to new areas of interest. The Scout Oath and Scout Law are a compass to guide my decisions. The entire program taught us leadership skills through experience, and those memories formed a foundation that prepared me for life. Looking back, all of this was made possible by the dedication and commitment of our adult volunteers.

This is why I volunteer with Scouting, so today's youth can share these same experiences. This is why I was active with my children in Scouting, and continue to volunteer today to provide a quality program. This is why I make it a point to give back to Scouting, to allow the program to be shared to even more of today's youth. The Scouting Program continues to evolve and grow and I believe with continues to be a positive influence to prepare today's youth for what tomorrow brings.

Jen Snyder, Scouting Parent
Scouting is a powerful asset for my entire family, through quality time together on events and outings, and through the lessons taught in the program itself. It has fostered confidence, decision making, and perseverance, as well as deep friendships and a support network that I've never found anywhere else. Click here to read more about Jen's impact from Scouting...

When we first joined Scouting, I already knew it was a fantastic program for the kids. I understood they'd be learning about citizenship, outdoor skills, and leadership, among many other important topics. I very quickly learned, however, Scouting wasn't only beneficial for kids. Scouting became a powerful asset for my entire family, through quality time together on events and outings, and through the lessons taught in the program itself.

Through Scouting, I watched my kids grow into more confident and capable people. I watched them navigate tough concepts like conflict and failure and apply those lessons in all aspects of life, not just during troop meetings. I learned the phrase "Scouting Family" is 100% true - the people I've met through this program have become like family and the support, compassion, and friendship is beyond anything I have experienced anywhere else.

The biggest gift of all, however, is the gift of failing safely. This is a concept I don't usually see in programming for kids and it really opened my eyes to the potential in my own children. Instead of the adults paving the path of success, the Scouts take point on their own journeys. The leadership is available to the kids for mentoring and advice, but the Scouts are allowed to make mistakes and learn to recover from them. Success on the first try is nothing more than luck, there is no real learning involved; to have an opportunity to fail safely is an invaluable tool for growth. The kids are learning to not give up in the face of adversity or setbacks, they are learning to be confident decision-makers, and I am learning they are capable of so much more than I gave them credit for.